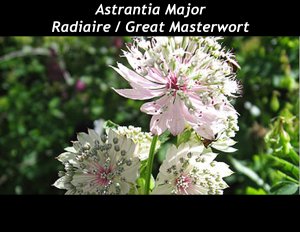 Greater Masterwort - Astrantia major

DESCRIPTION:. Perennial from the Apiaceae family, from Europe. Plant bearing tiny star-pink flowers tinged green, collected in umbels and surrounded by large bracts imitating flower's petals. Beautiful dark green foliage, palmate and shiny. Very useful in floral art, outstanding cut flower.

Height: 60 cm ( 24 in.)

Flowering: July - September

Exposition: sun and semi-shade

CULTIVATION

Zone: 4

Soil: Well-drained, cool, moist and rich.

Germination temperature: 15° - 18° C (55° - 65° F)

Germination time: 14 to 28 days

Special care: Seed in February - March in a sterile growing medium. After sowing, cover your tray with plastic and refrigerate for 4 weeks, then bring back to germination temperature, once germinated, grow at temperature of 12° - 15° C (42° - 55° F). Can be sown direct in place in the fall.
$ 7.95
[ Back to online shopping ]