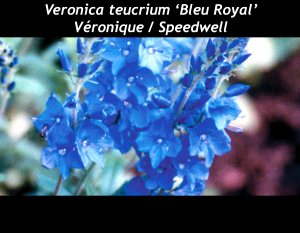 Speedwell - Veronica austriaca ssp teucrium - Royal bleu

DESCRIPTION: Native to Europe. Belong to the Scrophulariaceae family. Mat-forming perennial with ovate, deeply toothed leaves and saucer-shaped, royal blue flowers.

Height: 30-40 cm (12-16 in.)

Flowering: July

CULTIVATION

Zone: 4

Exposition: semi-shaded to sunny location

Soil: light and well-drained soil

Germination temperature: 16-21ºC (62-70ºF)

Required time: 14 days

Special care: Requires light to germinate. Sow seeds early in the spring (around May 15th) or in the autumn. Indoors, sow in mid-March. Germinate rapidly. Do not cover seeds but tightly press them into the earth. Substrate must be kept constantly moist but not wet. Once germination has occurred, place tray in cooler conditions.
$ 4.75
[ Back to online shopping ]