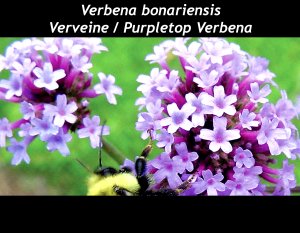 Purpletop Verbena - Verbena bonariensis

Description : Native to South America (Brazil to Argentina). Belongs to the Verbenaceae family. Annual forming a basal rosette of lanceolate, dentate leaves, pubescent underneath, some of them embracing tall square stems. Cymes of violet blue flowers. Attract butterflies.

Height: 100-200 cm (40-79 po.)

Flowering: mid-June to October

CULTIVATION

Zone : 7-11

Exposition: thrives in sunny locations but can tolerate semi-shade.

Soil: well drained, to sharply drained, moderately fertile soil

Germination temperature:15-18ºC (60-65 ºF)

Required time:

Special care: Sow indoors in February or March. Cover the seeds with a thin layer of soil. Substrate must be kept constantly moist but not wet. Place trays at temperatures mentioned above and out of direct sunlight. Germination is irregular and extends over a long period of time. Don't discard seed trays too rapidly. Transplant at the 2-true-leaves stage. Pinch out the growing tip when the plant has 3 sets of leaves to encourage branching. Gradually acclimatize young plants to outdoor conditions before planting out 60 cm (24 in.) apart.
$ 3.95
[ Back to online shopping ]