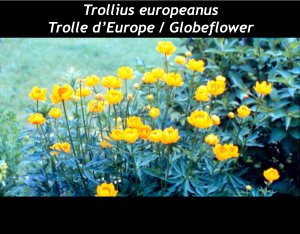 Globeflower - Trollius europaeus

DESCRIPTION: Native to Europe, Russia and North America. Belongs to the Ranunculaceae family. Perennial with lobed, toothed, basal leaves. Spherical, solitary flowers, egg-yolk yellow in colour.

Height: 60 cm (24 in.)

Flowering: June

CULTIVATION

Zone: 4

Exposition: semi-shaded to sunny location

Soil: humus-rich and moist, even waterlogged soil

Germination temperature: 18-22ºC (64-72ºF)

Required time: 30-365 days

Special care: Sow indoor in January or February. Keep trays at 18-22ºC (64-72ºF) for 2 to 4 weeks. Keep the soil very moist. Expose to cold temperature (-5ºC / 23ºF) for 4 to 6 weeks, then bring back gradually to 5-12ºC (41-54ºF). Sow outdoors from August to September. This way, the seeds will benefit from natural cold stratification.
$ 5.25
[ Back to online shopping ]