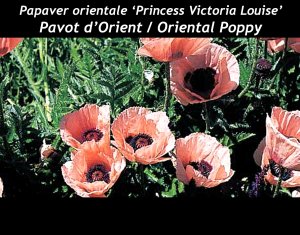 Oriental poppy - Papaver orientale - Princess Victoria Louise
DESCRIPTION: Native to the Caucasus, Northeastern Turkey and North Iran. Belongs to the Papaveraceae family. Hairy, greyish leaves borne in a basal rosette. Saucer-shaped, pink flowers with a black rectangular spot at the base of each petal.

Height: 40-120 cm (16-47 in.)

Flowering: June

CULTIVATION

Zone: 3

Exposition: sunny location

Soil: Can adapt to any kind of soil as long as it is well-drained.

Germination temperature: 15ºC (59ºF). It requires cool temperatures to germinate.

Required time: 10 to 15 days

Special care: Does not like to be transplanted. Sow directly in peat pots, indoors or outdoors and transplant to their permanent place in fall. The foliage will disappear in the middle of summer but will return in fall or in spring. Do not tolerate very moist soil.
$ 4.25
[ Back to online shopping ]