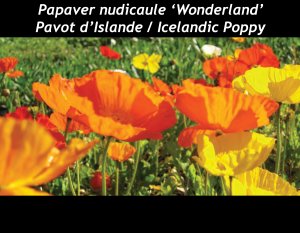 Icelandic Poppy - Papaver nudicaule - Wonderland

DESCRIPTION: Native to subarctic regions. Belongs to the Papaveraceae family. Tuft-forming biennial with blue-green, hairy foliage. Ovate, deeply toothed leaves. Solitary, saucer-shaped flowers in the shades of yellow, white, pink and orange.

Height: 25 cm (10 in.)

Flowering: June-July

CULTIVATION

Zone: 3

Exposition: sunny location

Soil: Fertile and well-drained soil

Germination temperature: 20ºC (68ºF)

Required time: 5-15 days

Special care: Germinate rapidly. Sow seeds in spring in peat moss containers (resent transplantation) at stated temperature. Do not cover seeds. Once the seedling has germinated, keep them in cooler conditions (15ºC / 59ºF). Keep moist but do not soak. In order to get robust plant, thin sowing is essential.
$ 4.95
[ Back to online shopping ]