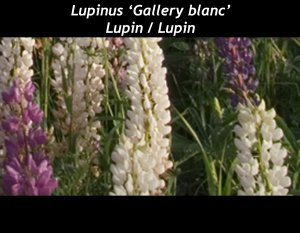 Lupin - Lupinus - Gallery Blanc

DESCRIPTION: Native to the Mediterranean, North Africa and America (North, Central and South). Belongs to the Fabaceaefamily. Perennial with palmate leaves made of 9 to 17 leaflets. Numerous, pea-like, white flowers borne in dense spike.

Height: 50 cm (20 in.)

Flowering: June-July

CULTIVATION

Zone: 3-4

Exposition: sunny location

Soil: sandy, acidic, sharply drained soil

Germination temperature: 12ºC (54ºF)

Required time: 20 to 25 days

Special care: Sow indoors between February 15th and March 1st. Freeze seeds for 48 hours and then soak them in a damp newspaper for 24 hours. Sow directly in peat moss containers (does not appreciate to be transplanted). Sow outdoors in July.
$ 7.95
[ Back to online shopping ]