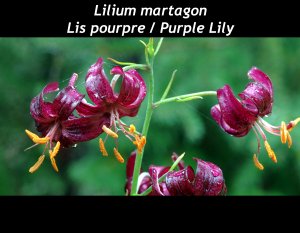 Purple Lily - Lilium martagon

DESCRIPTION: Native to Eurasia. Belongs to the Liliaceae family. Perennial plant with oblong to oblanceolate leaves borne on stiff, purple-flush green stem in dense tiered whorls. Numerous small, white flowers with curled back petals. Their fragrance is somewhat unpleasant.

Height:0,9-2 m (3-6 feet)

Flowering: July

CULTIVATION

Zone: 4

Exposition: semi-shaded to sunny location

Soil: deep, humus-rich and well-drained soil

Germination temperature: 21 and 27ºC (69-80ºF)

Required time: Variable

Special care: Seeds are very slow to germinate. Sow indoors between February 1rst and March 15th, in trays containing a seed-starting mix. Cover with a thin layer of soil. Substrate must be kept constantly moist but not wet. Place trays at temperatures between 21 and 27ºC (69-80ºF) for 6 weeks, then at 5ºC (41ºF) for another 3 weeks and finally bring back at temperatures between 21 to 27ºC (70 to 80ºF). Once the seedling has germinated, keep them in cooler conditions, between 10 and 16ºC (50 and 60ºF). Do not throw away the trays too fast because the seeds can stay dormant for up to 2 years.
$ 4.50
[ Back to online shopping ]