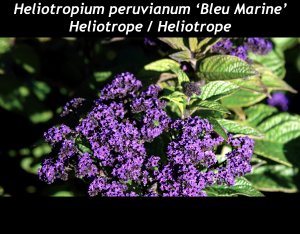 Heliotrope - Heliotropium peruvianum - Bleu Marine

DESCRIPTION: Native to Peru. Belongs to the Boraginaceae family. Annual shrub plant with dark green, oval leaves. Numerous, deep violet-blue flowers gathered in broccoli-like flower heads. Very fragrant, especially during warm weather.

Height: 40-45 cm (16-18 in.)

Flowering: all summer

CULTIVATION

Zone : 11

Exposition: sunny location

Soil: moist, well-drained soil

Germination temperature: 16-18ºC (61-64ºF)

Required time: 15-20 days

Special care: Sow indoor on March 1st. Transplant when the seedlings have 2 true leaves. Transplant outside when all danger of frost has passed. Protect from midday sun. Does not tolerate drought.
$ 2.95
[ Back to online shopping ]