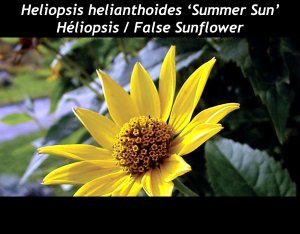 False Sunflower - Heliopsis helianthoides - Summer Sun
DESCRIPTION: Native to North America. Belongs to the Asteraceae family. Perennial with large, toothed leaves. Large, daisy-like flowers with golden yellow, single or semi-double flowers and a brownish yellow central cone.

Height: 90-150 cm (35-59 in.)

Flowering: June-September

CULTIVATION

Zone: 3

Exposition: sunny location

Soil: well-drained, ordinary garden soil

Germination temperature: 20ºC (68ºF)

Required time: 10-15 days

Special care: Sow indoors in March or April. Do not cover the seeds but tightly press them into the earth. Keep moist but do not soak. Once germination has occurred, place in cooler conditions (15ºC/59ºF). Sow outdoors in May or September-October when the soil is cool. Remove spent flowers to promote a second flowering period. May be invasive.
$ 2.95
[ Back to online shopping ]