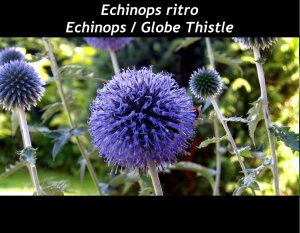 Globe Thistle - Echinops ritro
DESCRIPTION: Native to the east and centre Europe up to centre Asia. Belongs to the Asteraceae family. Perennial with spiny, greyish foliage. Lower face of the leaves covered with woolly hairs. Globe-shaped, blue-grey flowers. Ideal as dried or cut flowers.

Height: 90-150 cm (36-60 in.)

Flowering: July-September

CULTIVATION

Zone: 3

Exposition: semi-shaded to sunny location

Soil: Can adapt to any kind of well-drained, moderately fertile soils. Prefers dry conditions.

Germination temperature: 21-27ºC (70-80ºF).

Required time: 15 to 60 days

Special care: Sow indoors in early March. Cover seeds with a thin layer of soil. Once germination has occurred, place in cooler conditions (10ºC / 50ºF). Sow outdoors from May to July in a sunny location. Easy to grow.
$ 3.45
[ Back to online shopping ]