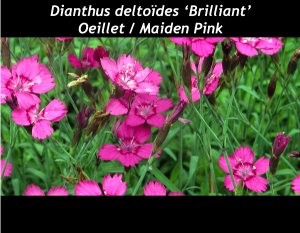 Maiden Pink - Dianthus deltoides - Brillant

DESCRIPTION: Native to Europe. Belongs to the Caryophyllaceae family. Perennial with minuscule linear, bottle-green leaves sometimes with a purple tinge. Evergreen foliage. Numerous small soft pink flowers with fringed petals.

Height: 15 cm (6 in.)

Flowering: June-October

CULTIVATION

Zone: 3-4

Exposition: sunny location

Soil: Neutral, well-drained, ordinary garden soil

Germination temperature: 20ºC (68ºF)

Required time: 15-20 days

Special care: Sow indoors between February 1rst and March 15th. Do not cover the seeds but tightly press them into the earth. Substrate must be kept constantly moist but not wet. Once the seedling has germinated, keep them in cooler conditions, between 10 and 16ºC (50 and 60ºF).
$ 2.95
[ Back to online shopping ]