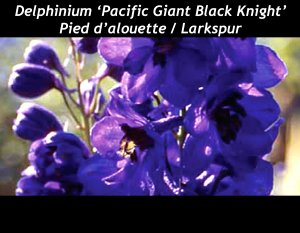 Larkspur - Delphinium - Pacific Giant Black Knight

DESCRIPTION: Native to temperate zones of the North Hemisphere. Belongs to the Ranunculaceae family. Perennial with palmately lobed, more or less deeply divided leaves. Numerous dark violet flowers with a black eye borne in a dense spike.

Height: 90 cm (35 in.)

Flowering: July-August

CULTIVATION

Zone: 3

Exposition: sunny location

Soil: deep, humus-rich and well-drained soil

Germination temperature: 22-24ºC(72-75ºF)

Required time: 12-16 days

Special care: Sow indoor between February 1st and March 15th. Cover with a thin layer of soil (needs darkness to germinate) and place at 22-24ºC (72-75ºF). If germination does not occur after 3 to 4 weeks, place in a refrigerator for 21 days. Once germination occurred, place trays at 10-16ºC (50-60ºF). Will need to be staked.
$ 4.50
[ Back to online shopping ]