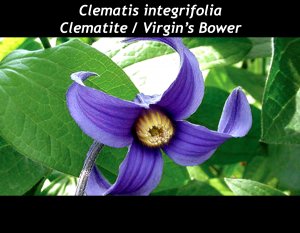 Virgin's Bower - Clematis integrifolia

Description: Native to Central Europe. Belongs to the Ranunculaceae family. Subshrub perennial with coriaceous, ovate to lanceolate, prominently veined leaves. Star-shaped, dark violet or blue, rarely white flowers.

Height: 60 cm (24 in.)

Flowering: Summer

CULTURE

Zone: 4

Exposition: sunny location

Soil: rich, humid but well-drained soil

Germination temperature: 18-22ºC (64-72 ºF)

Required time: 30 days to 3 years

Special care: Germinate rapidly. Sow indoors in February, March or April. Do not cover the seeds but tightly press them into the earth. Substrate must be kept constantly moist but not wet. Place trays at temperatures mentioned above. If germination has not occurred within 4 weeks, place the tray in a cold place (-4-4ºC / 25-40ºF) for 2-4 weeks and gradually bring back to stated germination temperature. Once germination has occurred, place tray at 12ºC (54ºF). Can be sown outside in autumn. Pinch out the growing tip when the plant has 3 sets of leaves.
$ 5.95
[ Back to online shopping ]