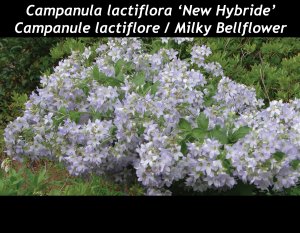 Milky Bellflower - Campanula lactiflora - New Hybride

DESCRIPTION: native of the Caucasus. Belongs to the Campanulaceae family. Perennial with obovate, toothed leaves. White, pink or pale blue, star-shaped flowers. Need to be stalked.

Height: 120-150 cm (47-59 in.)

Flowering: July

CULTIVATION

Zone : 2

Exposition: semi-shaded to sunny location

Soil: humus-rich and well-drained soil, which stays cool.

Germination temperature: 18-22ºC (64-72ºF)

Required time: 14 to 21 days

Special care: Sow indoor between February 1st and 15th. Cover seeds with a thin layer of soil. Once germination has occurred, place tray at 12ºC (54ºF). Sow outdoors from May to July.
$ 7.95
[ Back to online shopping ]