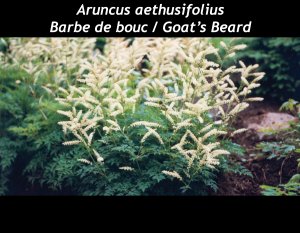 Goat' Beard - Aruncus aethusifolius

Description : Native to Korea. Belongs to the Rosaceae family. Perennial with toothed, compound leaves. Numerous tiny, cream flowers, gathered in a feather-like panicle.

Height: 20-40 cm (8-16 in.)

Flowering: July-October

CULTIVATION

Zone: 3

Exposition: semi-shaded location

Soil: rich, well-drained and acidic soil

Germination temperature: 18-22ºC (64-72 ºF)

Required time: 30-90 days

Special care: Sow indoors in February, March or April. Do not cover the seeds but tightly press them into the earth. Substrate must be kept constantly moist but not wet. Place trays at temperatures mentioned above. If germination has not occurred within 4 weeks, place the tray in a cold place (-4-4ºC / 25-40ºF) for 6 weeks and gradually bring back to stated germination temperature. Once germination has occurred, place tray at 12ºC (54ºF). Can be sown outside in autumn.
$ 6.35
[ Back to online shopping ]