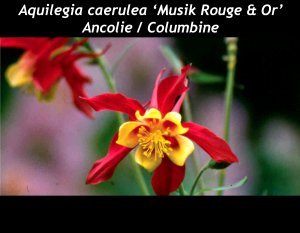 Columbine - Aquilegia caerulea - Musik rouge et or

DESCRIPTION: Native to the Rocky Mountain (United States). Belongs to the Ranunculaceae family. Delicate looking, short-lived perennial with deeply, lobed leaflets. Spurred, tilting, red and yellow flowers. Attract hummingbirds.

Height: 30-60 cm (12-24 in.)

Flowering: June-July

CULTIVATION

Zone : 3

Exposition: semi-shaded to sunny location

Soil: humus-rich, moist and well-drained soil

Germination temperature: 21-27ºC (70-80ºF)

Required time: 14-30 days

Special care: Sow indoor between February 1st and March 15th. Do not cover seeds put tightly press them into the earth. If germination has not occurred within 4 weeks, place the tray in a refrigerator for 21 days and gradually bring back to stated germination temperature. Once germination has occurred, place tray at temperatures lower than 21ºC (70ºF). Sow outdoors from May to July.
$ 4.25
[ Back to online shopping ]