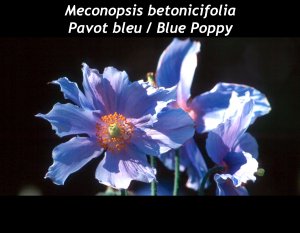 Blue Poppy - Meconopsis betonicifolia

DESCRIPTION: Native to Himalayas. Belongs to the Papaveraceae family. Perennial, sometime biennial plant. Basal rosette of oblong, petiolate leaves with a dentate margin. Upper leaves half-clasping the stem. The plant is covered with rusty-coloured bristles. Sky blue flowers with delicately wavy petals.

Zone: 4

Height: 90 cm (35 in.)

Flowering: June-July

Exposition: semi-shaded location

CULTIVATION

Soil: Humus-rich, humid but well-drained soil.

Germination temperature: 10-15ºC (50-60ºF)

Required time: 14-28 days.

Special care: The seeds must be placed in the fridge (4ºC / 40ºF) for a minimum of 30 days prior to sowing. Sow indoors in January-Febuary. Do not cover the seeds but tightly press them into the earth. Substrate must be kept constantly moist but not wet. Place trays at temperatures mentioned above. Once germination has occurred, place tray at 12ºC (54ºF).

An information sheet is sent with your purchase.
$ 6.50
[ Back to online shopping ]