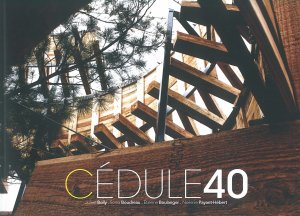 CÉDULE 40
This book celebrates the projects created by Cédule 40, a young group of artists from Chicoutimi, Julien Boily, Sonia Boudreau, Étienne Boulanger and Noémie Payant-Hébert. Creators of the installation La Balançoire (the swing) presented as part of the International Garden Festival from 2006 to 2010, Cédule 40 is a group of artists known for their large-scale installations. Among the giant installations to their credit, Cédule 40 has presented their work at the International Garden Festival , the gardens of the 400th anniversary of Quebec City, the Triennale Orange in Saint-Hyacinthe and the Parc Falaise in Alma. Cédule 40 also created the installation Labryinthe for the 10th anniversary edition of the International Garden Festival in 2009.

The most popular installation at the Festival during its years on exhibition, La Balancoire is a giant yellow swing that is more than 20 feet in height. The movement of the visitors, generated spontaneously by the attractive power of the installation, activates two seeders that allow the visitors to quite literally seed the garden. Exhibited during 6 summers, the giant swing was installed in Mont-Joli in 2011, near to the roundabout at the end of Autoroute 20 as one of the Festival's extra-mural projects.

This beautifully printed and illustrated book of 94 pages, published by Sagamie édition d'art, includes photos of their projects and critical texts. Lesley Johnston, curator of contemporary art at the Montréal Museum of Contemporary Art and past artistic director of the International Garden Festival, wrote the preface. Essays by Jean-Pierre Vidal and Sylvette Babin offer readers an opportunity to explore the work of the artists and the inspiration behind their work.
Soft cover
French and English
94 pages
Published by SAGAMIE édition d'art
​ISBN 9782923612355
$ 30.00
[ Back to online shopping ]