Shops | Online shopping
Culinary Delights (13 products found)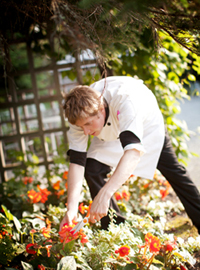 Culinary Delights
Treat yourself and savour one of our culinary delights

Reford Gardens (Les Jardins de Métis) have developed a new line of specialty products using some of the flowers that have subtle flavours and unusual tastes. Selected from among our extensive collection of interesting and unusual plants, each one is created with plants from our gardens, such as daylilies and crabapples or enhanced with flavours from our herb or picking garden. These gourmet products are a wonderful way to remember your visit to the gardens and an ideal gift for a gourmand or a foodie. At the heart of the gardens is Estevan Lodge, where chef Pierre-Olivier Ferry and his team prepare each product with care.

Cook the Gardens - Have a look at our Recipe made with each product of our Culinary Delights Line.
All prices are in canadian dollars.
Delivery time is estimated in business days.
Terms and conditions