Latest News
Métis-sur-Montréal presents Tisse Métis Égal
(July 11, 2012)
As part of the event Métis-sur-Montréal presented for a fourth consecutive year, Château Ramezay – Historic Site and Museum of Montréal and Reford Gardens present the exhibit Tisse Métis Égal created by Collectif PLUX.5. An imposing architectural structure, this vivid work offers a surprising and novel perspective on the urban landscape of the city. Audacious in design and form, this new ephemeral space transforms the experience of anyone who enters it, offering an original look at Old Montréal!


Erected in the heart of the historical district, this contemporary installation acts as a coloured filter that transforms our perception of the surrounding environment. Its walls, perforated with a scatter of triangular patterns—cleverly evocative of traditional weaving, particularly the ornamentation of the arrowhead sash—draw a striking parallel with Québec's past. Inside, visitors are immersed in a play of shadows and light that modifies their understanding of the work and its surrounding elements. Tisse Métis Égal pays tribute to Québec history, offering a brilliant interpretation of its traditions through a contemporary lens.

Collectif PLUX.5 creates original interventions articulated around issues of contemporary architecture. Graduates of Université Laval's School of Architecture, Étienne Bernier, Olivier Bourgeois, Marianne Charbonneau, Jean-Bruno Morissette and Jean-Philippe Saucier explore concepts of ephemera, space, landscape, geometry and abstraction.

Tisse Métis Égal is presented free of charge at Place De La Dauversière, between Château Ramezay and Place Jacques-Cartier, until October 8, 2012.

The installation was created to celebrate the 50th anniversary of the opening to the public of the Reford Gardens and the 150th anniversary of the creation of the Antiquarian and Numismatic Society of Montréal (ANSM), the founder of Château Ramezay – Historic Site and Museum of Montréal.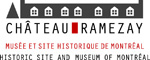 [ Back to previous page ]